Description:
Yucca is evergreen shrubs, short stem, leaf base clusters, are arranged spiral, with blades thicker, 50-80 cm long, 4-7 cm wide, apex with spikes, adaxially wrinkled, thick green is a small amount of white powder, upright oblique, margin smooth, old leaves with a small number of filaments. Between the summer and fall flowering,It is extracted from the plant Yucca "Moha Fu" yucca extract, yucca extract powder can be used for preparing natural shampoos and foam. Inflammatory stimuli can be used, skin acne, foaming agents and surfactants environmental deodorant, increase the decomposition and digestion of fattening animals.
| | |
| --- | --- |
| | |
| | 10% 30% 50% 60% UV 4:1; 10:1; 20:1 |
| | |
| | |
| | Saponins/Sarsaponin/Yucconin |
| | |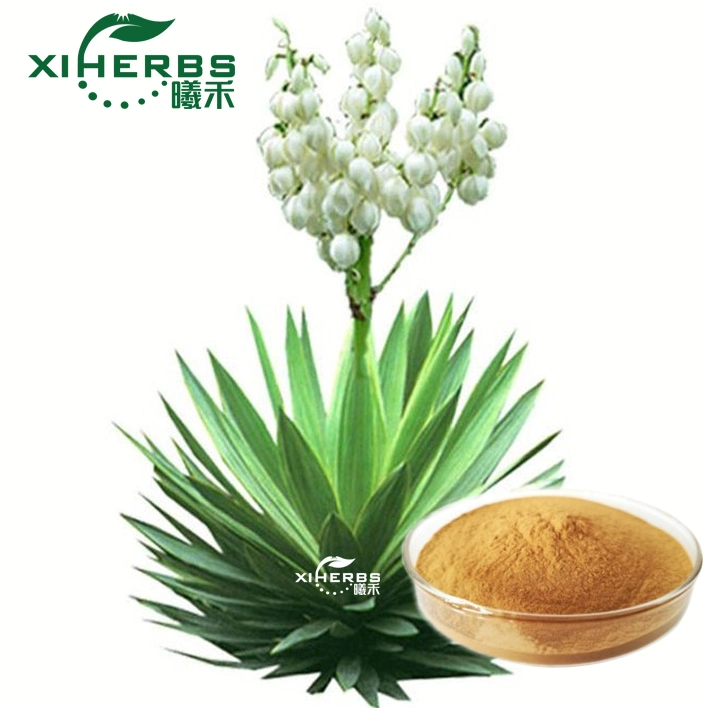 Function:
1. Enhance immunity, decrease the incidence of diseases.
2. Suppress the breeding of protozoa and other noxious bacteria.
3. Increase beneficial bacteria amount, maintain good intestinal tract circumstances.
4. Improve the absorption and utilization rate of nutrients facts.
5. Control the smell of animal waste.
6. Improve breeding reproduction and lower stillbirth rate.

Application:
Yucca schidigera extract can be used as feed helps to improve digestion of meals rich in nitrogenated compounds and allows for better absorption of them due to the fact that microbial activity is accelerated in the intestinal flora, lowering the volatile compounds that cause bad odors in the excretions.
Packing & Storage:
Pack in paper-drums and two plastic-bags inside. Net Weight: 25kgs/paper-drum.
1kg-5kgs plastic bag inside with aluminum foil bag outside. Net Weight: 20kgs-25kgs/paper-drum.
Store in a well-closed container away from moisture and light.

Shelf Life:
2 years if sealed and store away from direct sun light.

Natural Ingredients, Healthy Life.
Xiherbs is a botanical/plant extracts manufacturer and Natural Ingredient Solutions provider.
Please feel free to contact us.