Product description
Benzoic acid is a mono-functional, romatic acid, which is widely used as a building block for the synthesis of alkyd resins. It is also used as a preservative in many industrial applications, such as antimicrobial agent of latex, toothpaste, jam, dyeing and printing mordant, pharmaceutical and dye intermediates for preparing plasticizer, spices and the like, rust inhibitor of steel equipment and so on.
Service we provide:
1. before shipment, free sample for test
2. Packing as your request, with photo before shipment
3. Cargoes photo before and after loading into container
4. Fast shipment by reputed shipping line
5. Best service after shipment with emails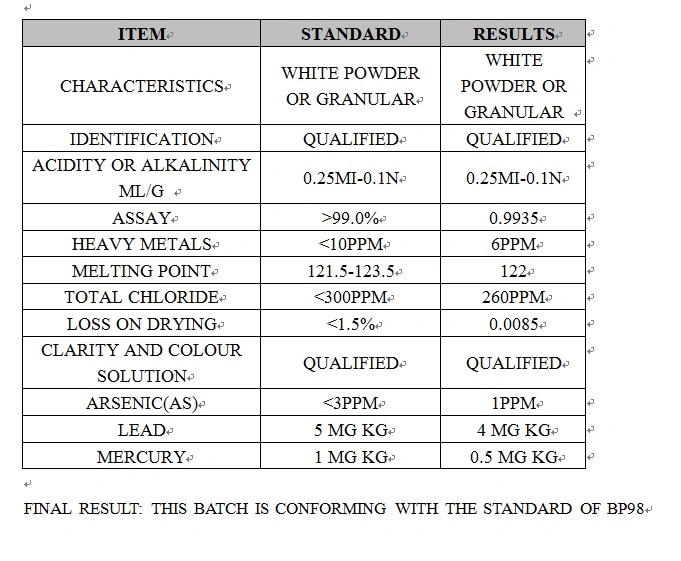 Application Of Sodium Benzoate:
1.Sodium Benzoate is used in acidic foods and drinks and products to control bacteria, mold, yeasts, and other microbes as a food additive. It interferes with their ability to make energy.
2.Sodium Benzoate is used most prevalently in acidic foods such as salad dressings (vinegar), carbonated drinks (carbonic acid), jams and fruit juices (citric acid), pickles (vinegar), and condiments.
3.Sodium Benzoate can alos be used in medicine, tobacco,printing and dyeing.