| | |
| --- | --- |
| Product Name | Pomegranate peel extract |
| Part Used | Peel |
| Appearance | Brown powder |
| Active Ingredient | Ellagic acid |
| Specification | 98% |
Below Specifications are available
Polyphenols 40%-80%,
Ellagic acid 40% 98%
Punicalagin 40%
Pomegranate extract is a fruit that is very rich in nutrients which makes it quite popular around the world. The fruit originated in areas of Northern India, Pakistan, Iran and Afghanistan, though it also grows in Peninsular Malaysia, Southeast Asia, California, Armenia, tropical Africa and others. This fruit has a very leathery texture on the outside that may be orange-yellow, red or purple. The inside of the pomegranate is filled with pink arils with seeds inside that are juicy and sweet.

Ellagic Acid, the active ingredient extracted from Punica granatum L., has the following functions:
1) Anti-cancer and anti-mutation. It has been proved to be an effective anti-carcinogen upon carcinoma of rectum and colon, esophageal carcinoma, liver cancer, lung cancer, carcinoma of tongue and skin.
2)Restrain to human immunodeficiency virus (HIV) and many kinds of microbe and virus.
3) Antioxidant, coagulant, descenting blood pressure and sedation.
4) Treat kinds of symptoms caused by high blood sugar, hypertension.
5) Resist to atherosclerosis and tumour.
6) Resist to antioxidance, senescence inhibition and skin whitening.

Application

Medical
Helps improve joint elasticity and skin elasticity, strengthen arteries, veins and capillaries. Its inflammatory effects against arthritis and sports injuries have also been reported. Eye diseases such as diabetic retinopathy (retinal inflammation due to diabetes) and decreased vision can also benefit.
Beauty
Pomegranate extract has anti-oxidation, anti-inflammatory and anti-bacterial effects. The active ingredients are anthocyanin, pomegranate polyphenol and ellagic acid. These ingredients are extremely strong anti-oxidant substances, which can effectively delay skin aging, moisturizing and anti-wrinkle.

Certificate of Analysis
Batch Number

Z20190412001

Production Date

2019.04.12

Batch Quantity

80 KGS

Item
Test Standard
Testing Result

Appearance

Powder

Complies

Color

Brown powder

Complies

Particle Size

100% pass 80 mesh

Complies

Oder

Characteristic

Complies

Taste

Characteristic

Complies

Loss on Drying

≤5

.

0%

2.2

0%

Residue

on

Ignition

≤0.1%

0.05%

Residual acetone

≤0.1%

Complies

Residual Ethanol

≤0.5%

Complies

Heave Mentals

≤10ppm

Complies

Na

≤0.1%

<0.1%

Pb

≤3 ppm

Complies

Total Plate

<1000CFU/g

Complies

Yeast & Mold

<100 CFU /g

Complies

E. Coli

Negative

Complies

Salmonella

Negative

Complies

Conclusion:

Conform with USP Standard
Storage:Closed container. dry & cool. keep away from moisture &strong light
Shelf life:24 Months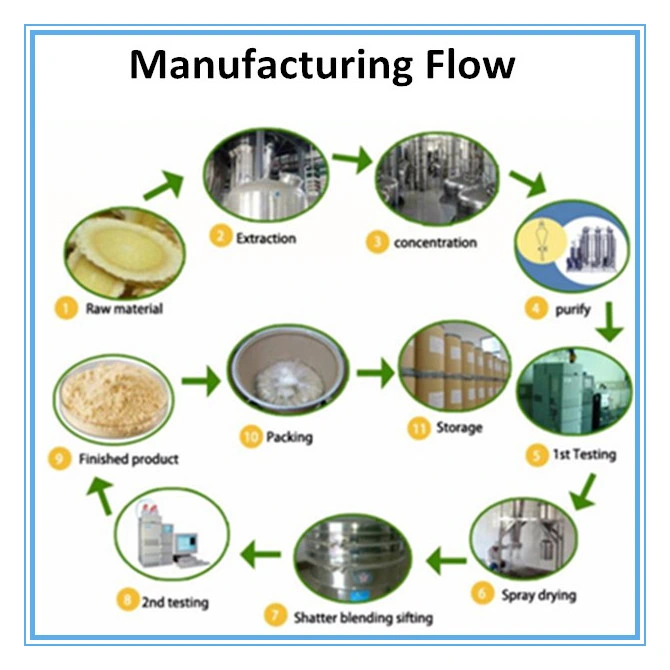 Shipping Options as follows

EMS

Around

7

-1

0

working days

DHL

Around 3-5 working days

Fedex

Around 4-6 working days

TNT

Around 6-

7

working days

By Air

Around 5-7 working days

By Sea

Around 15-30 working days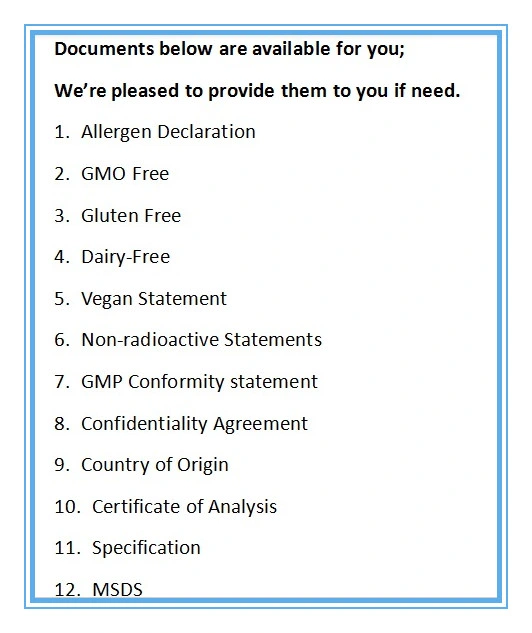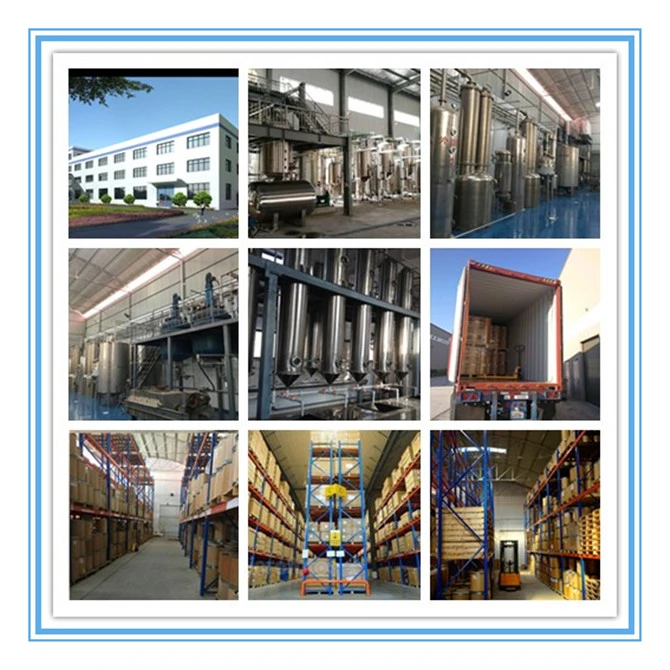 These Certificates are available, SGS, Halal, Kosher, USDA (Organic)